Coolant lubricant tubes – Overview of the models available
For the supply of coolant lubricant within the grinding machine, coolant lubricant tubes are used. These supply coolant lubricant from the machine connection to the nozzle. Depending on the design of the supply system, various coolant lubricant tubes made of different materials are available. The reliability of coolant lubricant supply is decisive to part quality during grinding and other machining processes. For this reason, the supply of coolant lubricant via coolant lubricant tubes must be robust and easy to handle.
In the following, we will compare the most important features of coolant lubricant tubes, weigh up the advantages and disadvantages of each type and provide tips on selection and use.
Application areas of coolant lubricant tubes
Within a grinding machine, the coolant lubricant flow usually splits up for use in various areas of the grinding machine. Some of the coolant lubricant is used for process cooling at the grinding site, for instance, while some is used for tool cleaning, bed flushing or for cleaning the part and measuring devices.
To apply the coolant lubricant in the right places, an efficient coolant lubricant supply system up to the nozzle is required within the working area of the machine tool. This is mostly achieved with different types of coolant lubricant tubes, as these allow (more or less) precise positioning of the nozzle, so that the coolant lubricant does not need to be sprayed across long distances.
Another purpose of the coolant lubricant tube is to ensure that a coolant nozzle is correctly positioned and supplied with coolant lubricant. To achieve this, the connection dimensions of the nozzle and the supply connection on the machine tool must be selected appropriately. As the coolant lubricant tubes are installed in the working area of grinding machine, they themselves often need to withstand abrasive wear influences, such as from flying chips (spark jets) and from frequently over-contaminated coolant lubricant. The coolant lubricant tubes used in machine tools must therefore be particularly robust and resilient.
Coolant lubricant tube designs
coolant lubricant tubes are available in various designs As there are many options which need to be considered when selecting a coolant lubricant tube, the following provides a brief overview of the common coolant lubricant supply solutions in grinding machines:
Pipes
The simplest do-it-yourself construction for coolant lubricant supply. The coolant lubricant is conveyed through pipes of often arbitrary cross-sections toward the machining site. To generate a higher exit speed, the pipe ends are clamped. Although this solution is usually cost-effective to install, the design is mostly very rigid and inflexible.
Tubes
Another simple solution is to install flexible tubes made of rubber which need to be additionally fixed to a site within the machine tool. To increase service life, metal-jacketed rubber tubes may be used. Tubes are not stable when it comes to dimension or position. It is thus necessary to additionally fasten the nozzle mounted on the tube end, so that the coolant lubricant can be supplied to the correct site.
Articulated tubes
Articulated coolant tubes are frequently used as a coolant lubricant supply solution in machine tools. Made of metal or plastic, articulated tubes are resistant to coolant lubricant. Thanks to joints which are used at regular intervals along the tube length and plugged together, this coolant lubricant supply solution is very flexible in shape. Depending on the design, articulated tubes are leakproof. Depending on the type of joints and tubes used, they are more or less positionally stable up to a certain coolant lubricant pressure. And they are available in all common connection dimensions. Some articulated plastic tubes are even equipped with universal nozzles for achieving simple coolant lubricant supply.
Articulated metal tube: Combining the best properties
Particularly resilient and at the same time flexible coolant lubricant supply may be achieved with articulated metal tubes. Articulated metal tubes are used primarily for coolant lubricant supply and can maintain the nozzle position reliably even at high pressure ranges. Articulated metal tubes may be installed flexibly at each individual joint before being fastened in the desired position. This allows almost limitless flexibility when it comes to coolant lubricant supply within the machine tool. Articulated metal tubes guarantee positional stability up to a coolant lubricant system pressure of 50 bar, for example. This is greater than that possible with coolant lubricant supply systems made of plastic. However, compared to plastic supply systems, articulated metal tube systems are more expensive to purchase. For that, they combine the advantages of flexible rubber tubes with the resilience of metal pipes.
gFlex
An articulated metal tube system specially developed for grinding technology is provided by the gFlex system from Grindaix GmbH. This is a modular and ergonomic solution for coolant lubricant supply in your grinding machine. All elements of the gFlex articulated metal tube are mechanically pre-tensioned, so that even in the non-fastened state, simple alignment and assembly is possible. The pressure and flow losses have been optimized for all bending radii and shape flexibilities; dirt deposits are reduced due to geometry optimizations. A separate characteristic curve exists for each tube type with respect to coolant lubricant volume flow and flow resistance – for each joint, for each nozzle and for all expansion modules.
There is an extensive accessory portfolio for the gFlex articulated metal tube system containing all necessary components for successful coolant lubricant supply in grinding machines. This portfolio encompasses everything from machine connections in all common connection sizes to quick-change systems, sensors (pressure, volume flow, temperature) and various Grindaix nozzles.
The gFlex articulated metal tube is a very comprehensive coolant lubricant supply system which enables rapidly variable and user-friendly coolant lubricant supply in your grinding machine.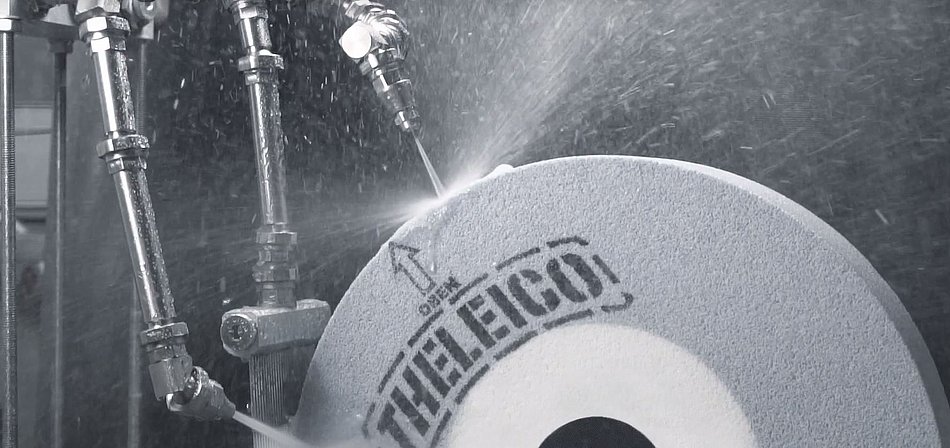 Here is a direct link to the gFlex product page: gFlex
You might also be interested in these articles from our magazine: