GRX-X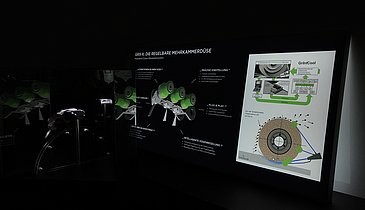 In addition to all three of the above-mentioned functions, the new Grindaix multifunction nozzle GRX-X also combines the discharge of the air cushion rotating with the grinding wheel.
The multi-chamber principle allows our customers to adapt nozzles to the specific application and process. All chambers of the GRX-X multi-function nozzle are separately supplied with cooling lubricant in terms of coolant pressure and volume flow by valve control and are fed back with signals from the grinding machine.
To prevent clogging of grinding tools in the future, the tool cleaning function is switched on or amplified on the basis of active power signals. In order to avoid "aquaplaning effects" between tool and component caused by coolant supply, the supply pressure at the main cooling nozzle is reduced via vibration signals from the grinding spindle.
We would be pleased to present the multi-function nozzle to you in your company. You can find your contact person here.
We look forward to your contact.
Read more