KSS supply solutions from the professional
Grinding is an essential part of machining production. An enormous amount of heat is generated during this process. This is why the correct supply of cooling lubricant is necessary. Only by optimizing the supply of cooling lubricant in the grinding process can risks such as grinding burn be avoided. But optimization in terms of cycle times and consumption is also becoming increasingly important. The solution is to design the coolant supply to suit the grinding process in use. However, a large number of factors must be taken into consideration - only then is optimization possible.
Each grinding process is different
The topic of cooling lubricant supply in grinding processes has become increasingly important, especially in recent years. Grinding processes must be able to run robustly, with short cycle times and high quality requirements for the component. In addition, there are new guidelines for resource-saving production from the government. Optimum coolant supply plays a central role here. If too less coolant is used in the grinding process, the result is that the probability of a grinding burn increases or the cycle time of the grinding machine is increased. On the other hand, if too much coolant is used, this leads to rising energy costs and also to increased costs for coolant preparation. Furthermore, there are negative effects on the quality of the component to be produced due to the aquaplaning effect and also vibrations in the process.
The production costs will be permanently too high due to a non-optimal coolant supply and will endanger the competitiveness of the company. In addition, OEMs (original equipment manufacturers) will pay attention to the CO2 footprint of their suppliers in the future and will therefore only place their orders with companies that offer resource-saving production.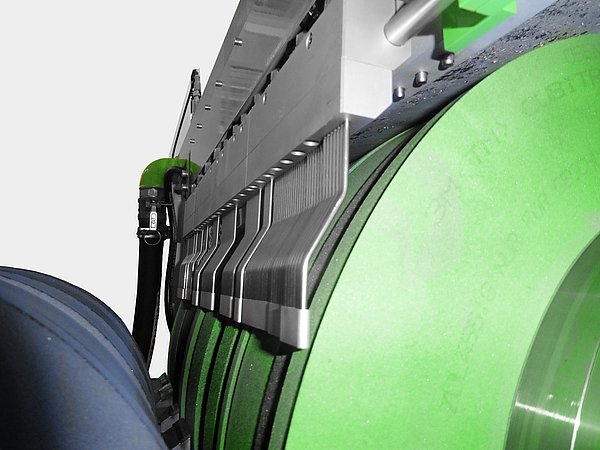 Every grinding process is individual: This is due to the different components and their materials, the different grinding wheels (size, composition/material, geometry, pore size, ...), the different machines, the coolant used (oil, emulsion), the coolant purity, and much more.
All process parameters and requirements have to be considered together to realize an optimal coolant supply for the specific application. The supply nozzles must be designed to optimize flow for the geometric conditions. But also the flow rate of the cooling lubricant must be adapted to the peripheral speed of the grinding wheel. To ensure that sufficient coolant reaches the contact zone, the air cushion must be overcome, for which certain pump, filter and valve technologies must be available. The best nozzle technology has little effect if the pump used is too low or the coolant contains too many impurities.
Are you looking for a partner for the coolant supply in your grinding processes?
To ensure that everything works smoothly during grinding, it is important that the grinding wheel and the workpiece are sufficiently supplied with the right amount of cooling lubricant. This can be achieved above all by using nozzles in a process-optimized way.
Do you also want to optimize your machines so that you can reduce your consumption of cooling lubricant in the future and at the same time increase productivity and quality? With us you have the possibility of cooperation. After a discussion with you, we will develop a nozzle that optimally fits your machine and optimizes your grinding process in a resource-efficient way.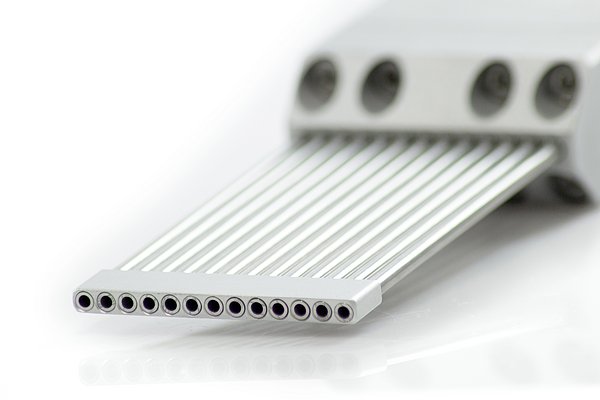 This results in a solution for the coolant supply that is optimized for the individual application and guarantees an efficient grinding process. Grindaix nozzles are characterized by an optimally adapted discharge speed combined with low coolant consumption and a long service life. As a result, some customers have already been able to reduce their coolant consumption by around 50% or even by more than 60%. In each case, nozzles were developed that were precisely adapted to the process. The goal in developing these nozzles was to deliver the right amount of coolant to the right place within the contact zone. To do this, the required coolant had to overcome the air cushion that is created when the grinding wheel rotates quickly. This targeted supply of cooling lubricant significantly reduces the risk of grinding burn. This is then reflected in the quality of the workpiece.
Where conventional coolant supply solutions always bring the risk of component damage, wasted resources, increased grinding wheel wear and inefficient process design, Grindaix ensures a safe and efficient grinding process.
It doesn't matter if you are building the grinding machine from scratch or doing a retrofit on an old machine. All nozzles are planned by Grindaix and delivered completely assembled. Install and ready!
Nozzles for all types of grinding processes
Nozzles precisely adapted to the machine and the installation space
Nozzles for oils or emulsion
Nozzle characteristics for the optimum operating point
No grinding burn
More robust grinding processes
Improved CO2 balance during grinding (less coolant, less energy used)
Nozzles available in aluminum or stainless steel
Nozzles conventional or printed (depending on process and application)
Optional protection against wear (sheet metal and/or coating)
Nozzles for spark quenching and bed flushing
Planning and implementation from a single source
Long product lifetime
On-time delivery (optional express production)
Take advantage of our experience
Why choose nozzles from Grindaix? Because we look at the grinding process as a whole and develop and deliver an optimal solution for every situation
and deliver it. You benefit from standardized processes, short processing times, fast development and delivery times and qualitatively
high-quality and proven solutions.
If you are interested, we look forward to getting to know you.
You are always welcome to contact us by phone or e-mail and we will make an appointment with you to discuss everything further.
Send us an e-mail at info@grindaix.de or call us at the following number +49 (0)2273-95373 0.