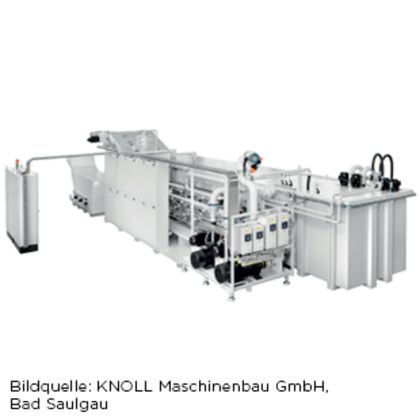 We provide support for the technical and economic aspects of selecting a central lubricoolant filtration system. The objective here is to physically implement your filtration task for the minimum investment cost without the threat of negative long-term effects.
We compare all system providers and filtration principles from a professionally neutral viewpoint.
Unbiased support in the complex area of lubricoolant systems
Avoid overdimensioning or underdimensioning (technical, economic, environmental)
Most efficient lubricoolant filtration for least investment
Low-cost and effective extension of your existing lubricoolant filtration system
Scope of Audit
> Technical, economic and environmental
Dirt load, purity requirements, lubricoolant volumes
Installation area; spatial restrictions
Lubricoolant system aggregates, coolers and pumps
Chip conveyors, chip shredders, pipe systems
< Disposal concepts, centrifuges, chip presses
Selection of a suitable filtration process
Testing of suitable system dimensioning
Creation of a specification
Assignment of various suppliers
Support during preparation of tender (dialogue with suppliers)
Comparison of tender (benchmark) by over 200 criteria
Creation of a management summary for customer-side investment decision-making
Procedure for a Coolant Audit F
1

Visit to your production environment

Our technicians will visit you with a complete measurement system and analyze your filtration tasks (dirt load, purity level etc.) on site.
2

Drawing up specifications

We draw up a selection of all filtration principles under consideration, incl. lubricoolant cooling systems, and check that they can be structurally integrated into your production environment.
3

Call for tenders

We will carry out the entire tendering process on your behalf, based on the specific requirements of your lubricoolant filtration system (specifications). The call for tenders is carried out anonymously.
4

Investment benchmark

Comparison of all tenders submitted in technical, economic and environmental terms, incl. tender assessment and creation of a ranking table.